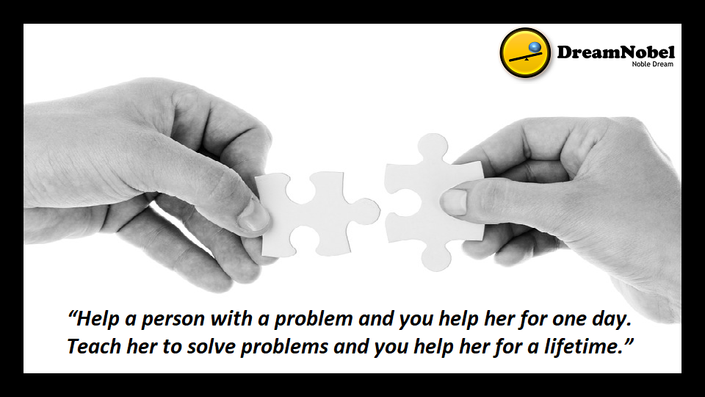 The Art of Rational Thinking (ART) Course
All of us have read the Panchtantra stories when we were children. Do you know why these stories were written?
There was once a king, Amarashakti, who had three sons who were unworthy of succeeding him. The King decided to invite a highly learned person, Pandit Vishnu Sharma, to come and teach his sons. When this teacher started teaching the princes he realized that conventional teaching methods will not work as he was not able to get the attention of his students. It is then he created various interesting stories, whereby he was not only able to command the interest of his three students, but also teach them all that he wanted. Thus, using these stories as educational tools Pandit Sharma was able to get the young princes ready to fulfill their duties and responsibilities of managing their kingdom. We decided to follows Pandit Vishnu Sharma's "story-led-education" technique and created this Art of Rational Thinking (ART) course.

The ART course uses time tested stories (Akbar-Birbal, Jataka, Panchtantra, Mahabharat, etc.), as an educational tool to introduce the key ingredients of empathetic rational thinking in a fun filled engaging manner.
Course Details
Age appropriate: Children and young adults around 10 years and above; equally suitable for adults to refresh their thinking patterns
Course structure:

6 sections comprising of 19 lectures and 5 documents containing practice problems
The first lecture of course is offered as free preview
For any further queries please contact us at [email protected]

Course Curriculum
Section1
Available in days
days after you enroll
Section2
Available in days
days after you enroll
Section3
Available in days
days after you enroll
Frequently Asked Questions
Who is the course suitable for?
This course is suitable for children aged around 10 years and above and young adults. Its equally suitable for adults to refresh their thinking patterns.
What is the objective of this course?
The ART workshop is designed to inculcate a combination of rational thinking and empathy, through a creative format like storytelling, so that the participant can learn the same in a fun filled engaging manner. By the end of the course the participant will learn a simple model/process of solving problems, in a rational manner, that can be applied across situations in real life.
How to move across the various sections of the course?
(1) In order to get the maximum benefit from the course please move across the course in a linear fashion i.e. go from Section1 to Section2 and so on. Inside each section also across various sessions in the order they are laid out. This is required as each next session builds on top of the previous sessions. (2) Between two sessions we would strongly recommend you to leave some gap, wherein you can reflect on the contents of the session finished and develop your own insights. We will be happy if you can share the same with us.
Can I pay the course fee in installments?
No. The entire course fee has to be paid upfront.
What if I am unhappy with the course?
To help you make up your mind w.r.t the utility of the course, we have done two things: 1. The first lecture of course is provided as a free review. You can go through it so as to get a better idea about the course. 2. You can drop us email with your queries and we will get back with clarifications. We believe that this will help to take a better call w.r.t buying the course. We definitely don't want you to be unhappy. However we have a NO REFUND policy.
When does the course start and finish?
The course contents are made available the moment the purchase is made. The full course is accessible for a period of one year after the purchase is made. During this period it is a completely self-paced online course - you decide when you start and when you finish.
How long do I have access to the course?
After enrolling, you have access for a period of 1 year to this course - across any and all devices you own.
If I have queries, can I talk to someone?
Absolutely. Please write to us at
[email protected]
with your contact details and we will revert to you at the earliest.
Where all this course can be used?
1. This course can be used by families to develop a model of engagement whereby children and parents can interact in a manner that develops a rational thinking.. 2. This course can also be used by organizations. It can be a suitable tool to reorient thinking patterns of new employees as they graduate from their academic world to real world. It can also be used to refresh thinking patterns of senior employees.